Belgian Milk Chocolate Allen's Strawberries & Cream
Expert chocolate artisans from our Sydney chocolate factory passionately craft great tasting chocolate creations using the best in confectionery classics to make even more smiles with Allen's Lollies. Masterfully handmade, these positively ambrosial parcels of joy flawlessly harmonise the vibrant sweetness of ripe strawberries and the mellow and subtle flavour of cream with the classically full-bodied taste of high-quality cocoa.
A little history...
An iconic combination beloved well beyond Wimbledon's hallowed courts, the illustrious dessert duo of strawberries and cream is widely credited to Cardinal Wolsey – an influential character in King Henry VIII's court. 
As the favourite, Wolsey's Hampton Court Palace (housing Tudor England's largest kitchens) played host to the king's banquets and gatherings, enormous affairs that would attract hundreds of lords and noblemen. This demanded a kitchen that could cope with the numbers, and puddings that could be prepared at the drop of a hat. 
Enter the magnificent duet of ripe strawberries and fresh cream. The rest, as they say, is history.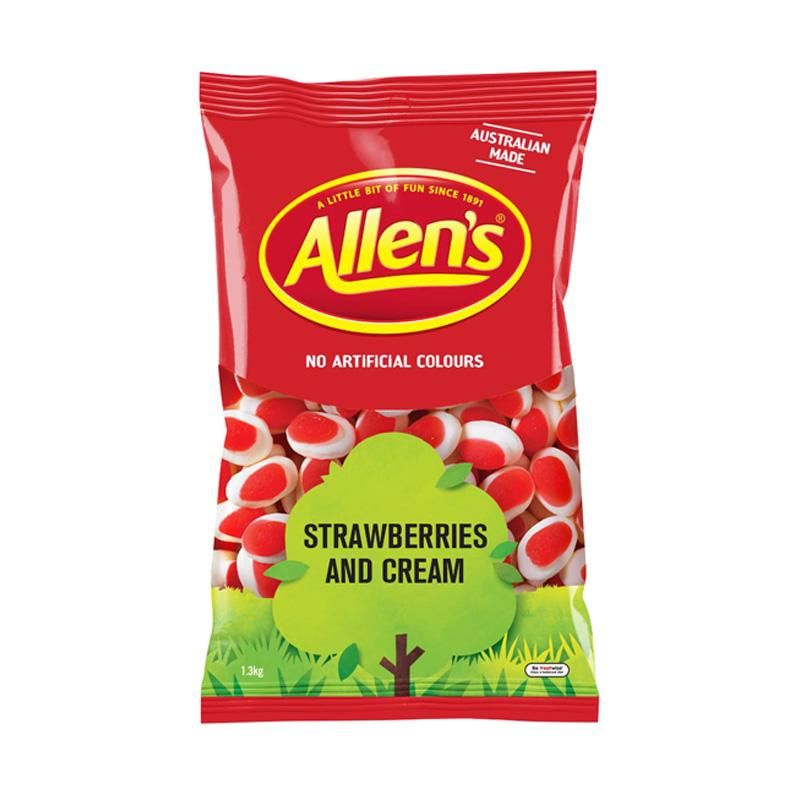 Aussie Made
Locally made with no artificial colourings, Allen's Strawberries and Cream lollies are popular for its remarkably balanced flavour profile of tart strawberry sweetness atop a delicate vanilla base. This dream team of flavour and texture is exquisitely rounded out by indulgently rich Belgian chocolate coating pure chewy, foamy delight.
Savour the classic flavours of sun-ripened strawberries, luscious vanilla cream and Barry Callebaut's fine Belgian chocolate in this precious boutique chocolate treat, expertly handmade by master chocolatiers right here in Australia.
Specifications for Belgian Milk Chocolate Allen's Strawberries & Cream
| | |
| --- | --- |
| Colour | Brown |
| Brand | Candy Bar Sydney |
| Size | 150g Bag |