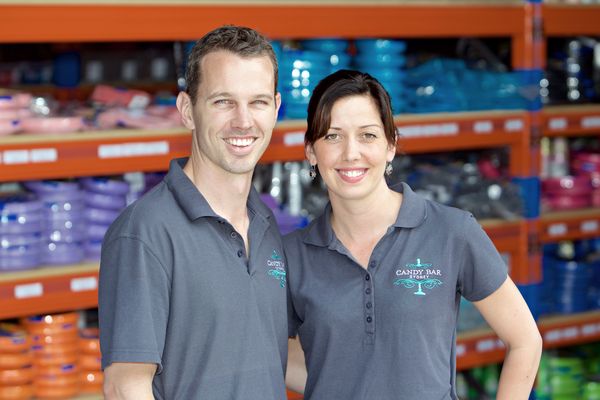 Our Story
Way back in 2010 when we (Tom and Kelly Mitchell) began our fledgling operation, we chose to specialise in an exciting niche market: creating wedding candy buffets. It gave us a lot of pleasure to work with bridal parties to design sweet and stunning colour themed candy creations. Over time, our candy buffets gained in popularity and we started diversifying, covering birthday parties, christenings, garden teas, and all sorts of corporate events.
By this time, the craze for single coloured candy buffets had really caught on, and our customers became candy visionaries. Keen to create their very own custom candy buffets, they now demanded the finest selection of colourful lollies to make their candy visions a reality. We were more than happy to oblige. Candy Bar Sydney launched our 'Candy Shop' in 2012 and we stocked it lovingly with our absolute favourite products and brands, among them plenty of true blue Aussie suppliers.
In 2015, we started our journey into the world of decorator balloons, helium hire and in-house inflation. An exciting area filled with stunning 90cm confetti balloons, shimmering latex and garlands, foil hearts, foil letters and every floating animal you can think of, including unicorns.
2017 saw our plans for chocolate take off. As distributors of Cadbury and Nestle we already had a huge range of lollies, but we weren't happy to stay still, we wanted to be a leading supplier of chocolate and the cake industry became our next target. So many wonderful cake makers helped challenge our procuring skills, putting us to the test to find the prettiest sprinkles from around the world. We now have "Candy Sprinkles', our range of exclusively created decorating sprinkles.
In 2018, building on our start with Nestle, Cadbury and Callebaut, we became distributors of Valrhona Chocolate and Michel Cluizel Chocolate. Two incredible French suppliers famous throughout the world for the fine cacao. With these two wonderful brands as part of our stable, we've been able to service the finest restaurants and hotels in the country. An exciting and edgy space that keeps our eyes focused on Instagram and the flow of amazing creations made by these pastry chefs with our products.
2018 - Custom Cake Toppers became hot and we were there to ride the wave. With every personalised design created in-house by Kelly, we were able to stay on trend and deliver a huge range of products personalised for each customer. Cake toppers, name place cards, planter sticks, Christmas decorations, dog and cat tags, bonbonniere tags and so, so much more.
2019 - The year of Domori Chocolate and Pavoni Italia. Domori, seen as the worlds best chocolate manufacturer, is now exclusively imported and distributed in Oceania, by Candy Bar Sydney. Pavoni Italia and their must-have range for pastry chefs and chocolatiers are now imported and distributed by Candy Bar Sydney also. As their official partner for Australia, we work together to supply Australia's ever increasing number of incredible cooks and chefs with the finest products and machinery.
2020 - Covid, what a year. With events all but cancelled, it was time to focus on American chips, American cereals and a whole lot of drinks. Everyone was home and snacking was going crazy. The best part about American candy, is how absolutely mental this stuff is. More sugar and colours than any person should ever eat and oh is it fantastic! Ever tried a twinkie?
2021 - SQF. 93/100 in our first audit. SQF is a globally recognised food standard. What it means to you, is super safe food manufacturing, storage and distribution. As we began supplying supermarkets domestically and internationally, our clients demanded that we push ourselves to the highest standards. We did! and when audited by the rigorous team at SAI Global, we came out trumps. 93/100 is an amazing first result and will help set the tone to continue our expansion into the export market.