The mystical power of gold has driven us to plunder and pillage, capture, torture, deceive and destroy. But that was then and this is now. In 2018, there's no need to slay enemies in the pursuit of gold. Just order it online and sprinkle it on your souffle.
Yes, the prized precious metal that captivated Egyptian pharaohs and adorned the crowns of power-wielding rulers can now be slathered on cakes and scattered on cocktails. Edible gold is breaking Instagram as we speak, and it has dessert devotees on Pinterest all a-glitter.
Edible gold leaf comes in extremely thin sheets, so delicate that a puff of wind would send it fluttering. It's just as easy to coat a clumsy finger as it is to cover a cake, so we have massive respect for the patissiers and cake connoisseurs out there who have mastered the art of using edible gold leaf in their culinary creations.
Can you really eat gold? The resounding answer is yes! Gold is harmless, odourless and non-toxic. With a steady hand and some edible bling in your back pocket, you can make desserts that would make Midas swoon... if only he could. Here are ten sensational ways to make magic with edible gold:
Use transfer sheets to coat a single cake tier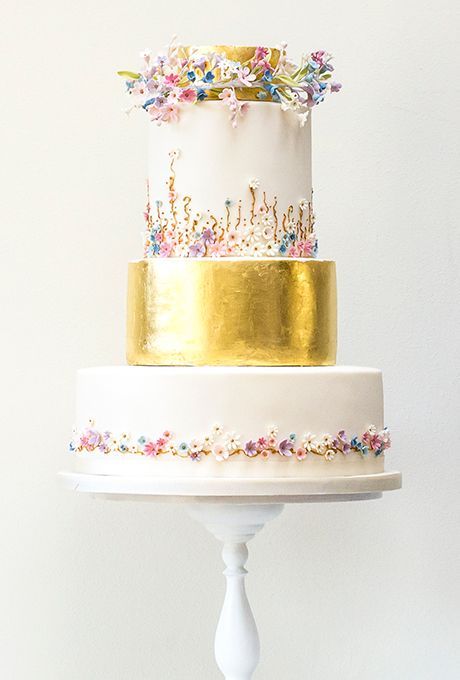 Transfer leaves are coated in paper on one side, which means you can place them with confidence before removing the paper on the back side. Cotton gloves will stop fingers from sticking and a sharp paring knife will make slicing a breeze. Smooth out individual pieces with a dry paintbrush or makeup brush.
Apply asymmetrical pieces haphazardly to avant-garde chocolate creations.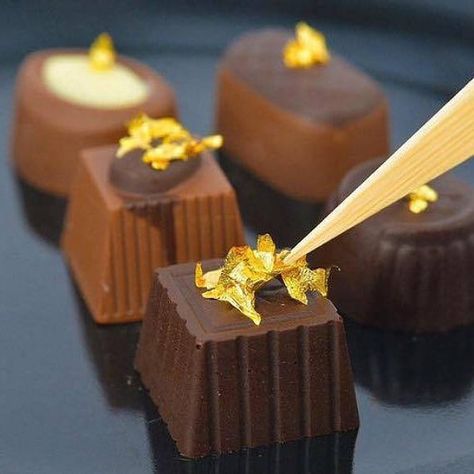 Use a paintbrush to hold the gold leaf down while you slice into shape with a razor or knife. You can use the tip of your utensil to pick up the pieces, so there's no reason to get your fingers involved.
Scatter tiny pieces of edible gold liberally into a glass of very expensive champagne.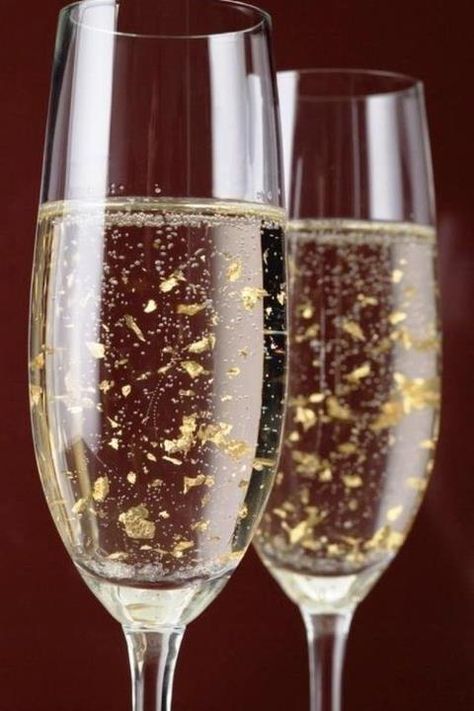 Gold flakes are perfect for beverages and easy to apply. You can crumble a gold leaf transfer sheet into tiny flakes or buy the flakes ready-made.
Press the gold leaf into patterns and apply to the tops of truffles, tortes or tarts.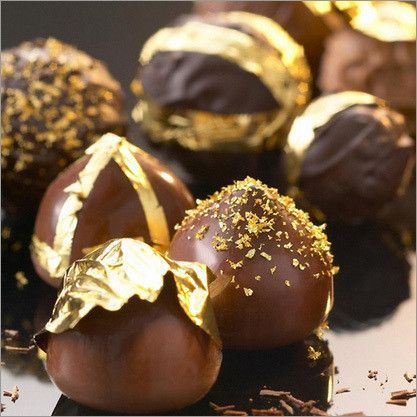 Sheets of gold leaf can be pressed onto wafer paper and cut into all manner of shapes using a paper punch.
Create a golden wedding anniversary cake.
Gold leaf transfer sheets stick to tacky fondant like a dream. Once in place, peel off the backing layer and admire.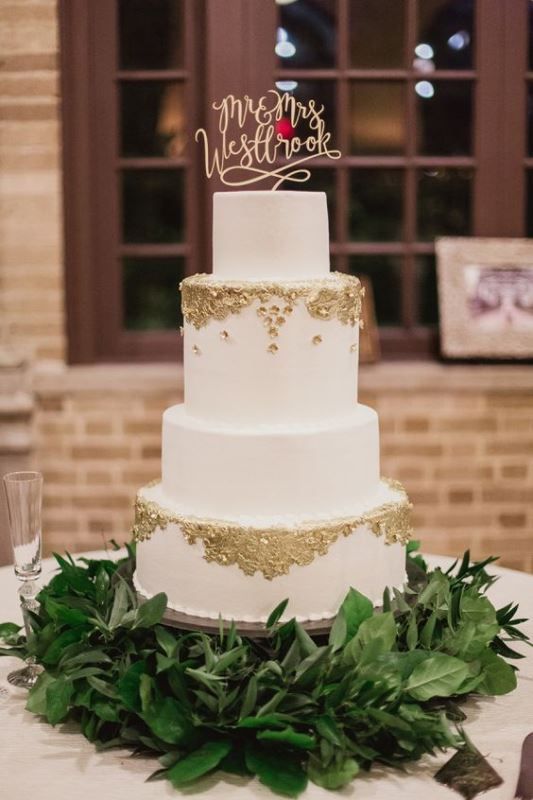 Melt it over macarons.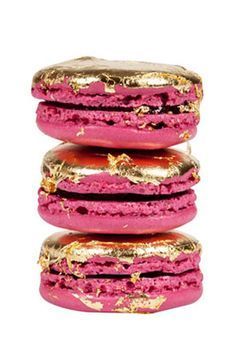 You don't have to worry about smudged gold on your finger if this is the gorgeous effect you're after- you can't go wrong!
Thank your guests graciously with luxurious homemade lollipops infused with flakes of gold. An unforgettable wedding favour!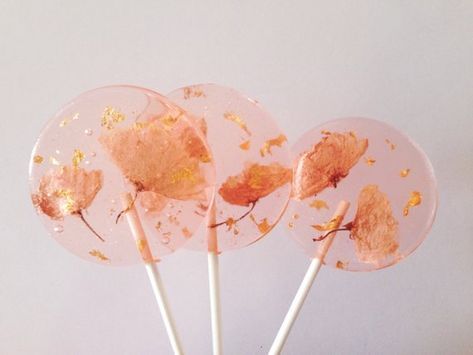 This delicious and delicate alternative to a traditional wedding favour is trending worldwide.
A single golden flake atop a sumptuous cupcake is a statement in itself.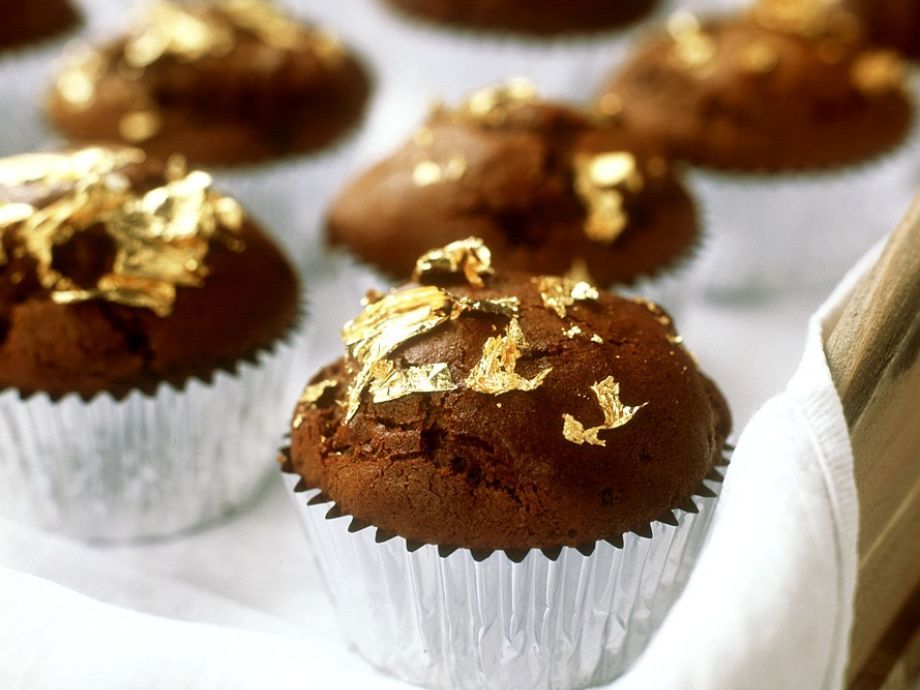 Easy to fashion: little effort for luscious returns.
For extra sparkle on this year's Christmas cookies, forget the cachous and go for gold leaf instead.
Opt for high-quality edible gold leaf with a high purity - between 20 and 24 carats is ideal.
Gold-plated cake pops and gold-dipped ice-creams make for a breathtaking birthday treat.
Armed with inspiration and a stockpile of edible gold leaf transfer sheets or flakes, we urge you to share your shimmering culinary creations with us!