When your parents got married it was all about ivory chair covers and flower centre pieces. Today, big bright bunches of festive balloons are in. When it comes to decorating the reception venue on your wedding day, your choices are endless. The party balloon selection out there for weddings is truly inspiring – whatever atmosphere you're hoping to create on the day, you'll find a great way to enchant and surprise your guests. We love this glamorous display as a classy way to shout it from the hilltops: enormous golden foil balloons that spell out LOVE (because that's what it's all about after all!), framed by a generous bunch of black, gold, and pearl shimmer balloons.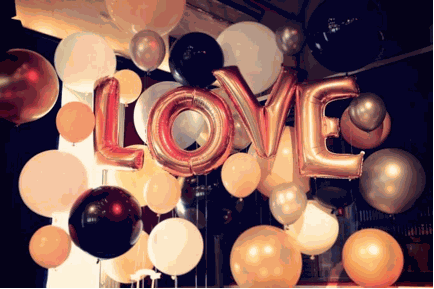 Found on http://www.thestyleco.com.au/blog/real-weddings/
The gold and silver foil LOVE balloons are particularly versatile: you can use them to make your wedding cake display or dessert buffet pop, or simply hang them in the air above the place where you and your partner will be exchanging vows. Just wait until you see the magical photos afterwards.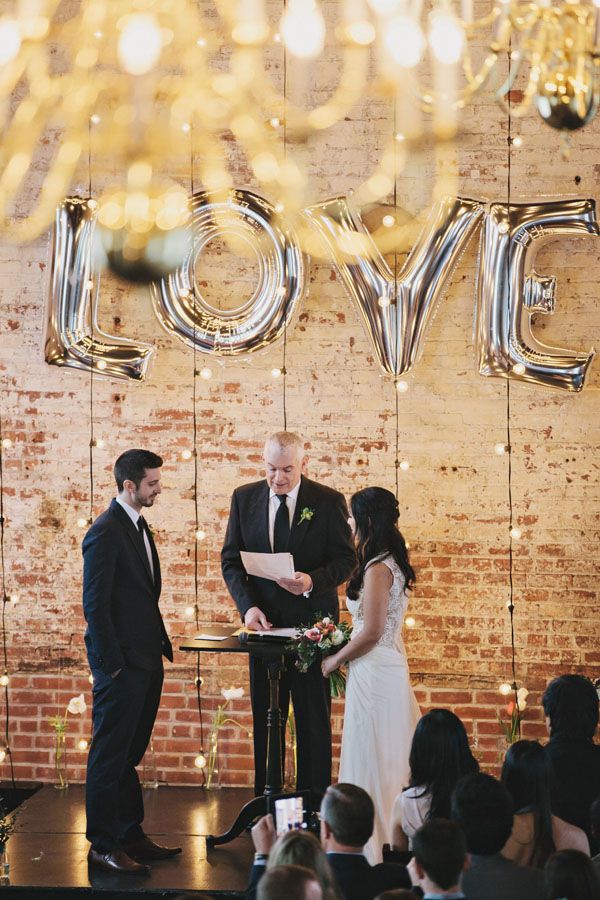 Found on Ruffled
For a warm and elegant vibe, gold balloons matched with clear latex ones look fabulous, particularly with the party lights and candles flickering all around. You can even use gold foil number balloons to let your guests know their table numbers at the reception venue, like these folks did.
Then, of course, there are the heart shaped balloons, best displayed in big bunches of bold colours wherever you want the world to know you're in love. These beauties look great on the beach, in the garden, or right above the dance floor. At Candy Bar Sydney, we've got them in pink, silver, pearl light blue, lavender, gold, sapphire, or ruby.
Whatever your colour scheme, you can tape balloons of just about any colour and size to the wall behind your gift table for an affordable and unique modern arthouse look. Add stars and streamers or even greeting cards to the ends of helium balloons floating on the ceiling so that they drift gently downwards, giving your guests the impression that they're walking through some sort of gorgeous wedding wonderland.
Candy Bar Sydney is mad about balloons, and we set about stocking up on as many beautiful colours, shapes, and materials that we possible could. As a result, our selection of party and wedding balloons is immense. We have latex balloons in every colour imaginable, including shades like robins egg blue, rose, spring lilac, emerald, and onyx. Our shiny and holographic foil balloons are round, star-shaped and heart-shaped, or you can take your pick from numbers and letters. Log on to Candy Bar Sydney to create your sensational wedding celebration and have it swimming with as many festive balloons as you can fit in the room.