We've had a ball exploring super inventive ways to use candy for delicious Christmas Day fun. Here's what we came up with. Enjoy!
10 decorative ideas for Christmas lollies
 LOLLY TOPPED CHEESECAKE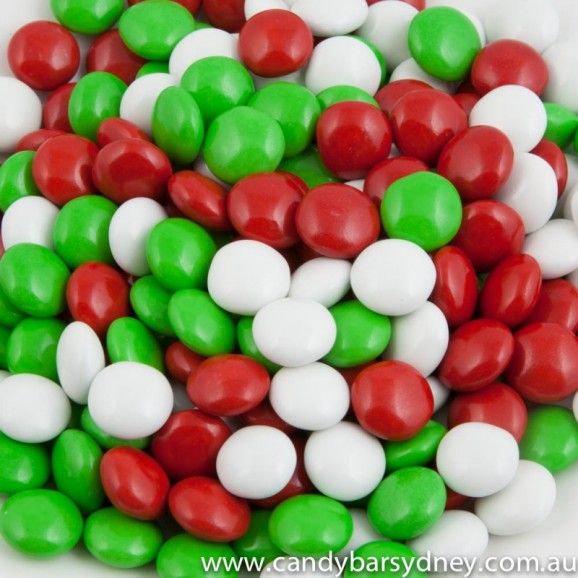 STARLIGHT MINT TOPIARY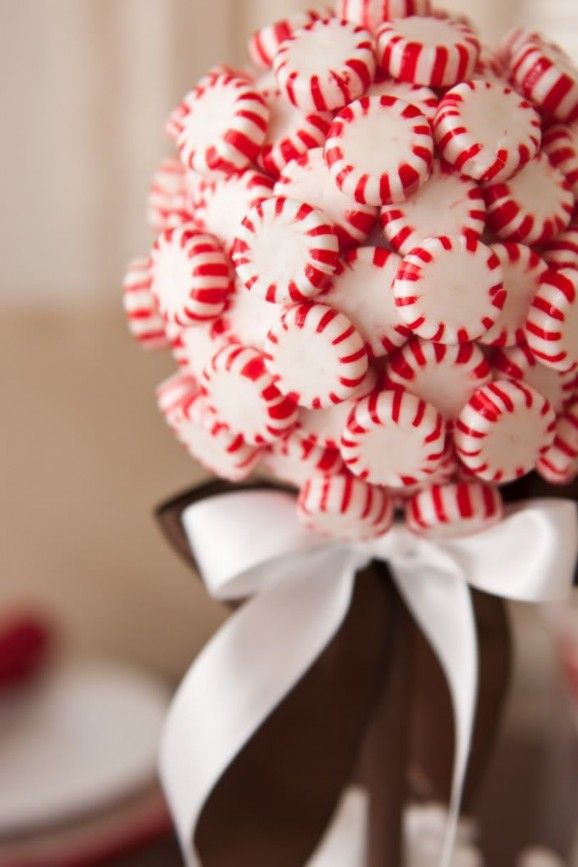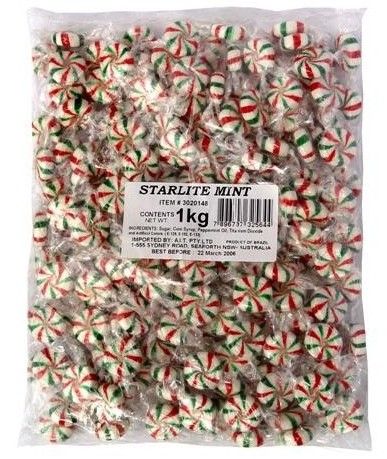 You'll need a styrofoam ball 15cm in circumference, a square styrofoam base to fit inside a small gift box from your local budget decoration shop
1kg packet of Starlight Mints, a hot glue gun and glue sticks, a 20cm-long piece of dowling and pretty ribbons
Paint the dowling using paints from your children's paintboxes or simply leave it au natural. Wait until it's dry, then insert it into the styrofoam ball carefully
Using the hot glue gun on a low setting (so you don't melt the lolly), glue a layer of unwrapped mints to the ball
Glue another layer on top
Add pretty ribbons in whatever colours you fancy
Stick the topiary into the styrofoam base, and pile the remainder of the mints into the box to make this part of the topiary edible
Idea found on commonplacebeauty.blogspot.com
STARLIGHT MINT CANDLES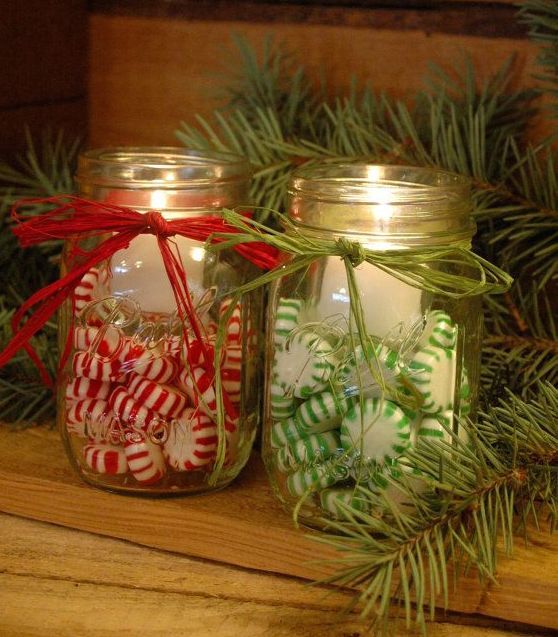 You will need two mason jars, Christmas ribbons, two short candles and 1kg of Starlight Mints
Fill the jars halfway with wrapped mints
Sit the candles on top
Add red and green ribbons, twine or even a neutral-coloured yarn, and tie in a bow
Light the candles!
Idea found on etsy.com
CANDY CANE AND CRYSTAL STICK BOX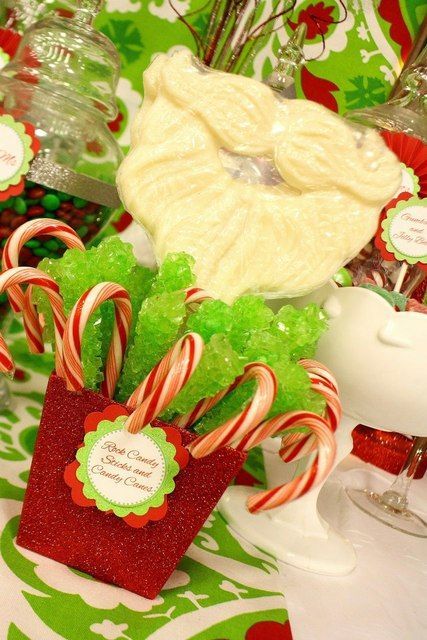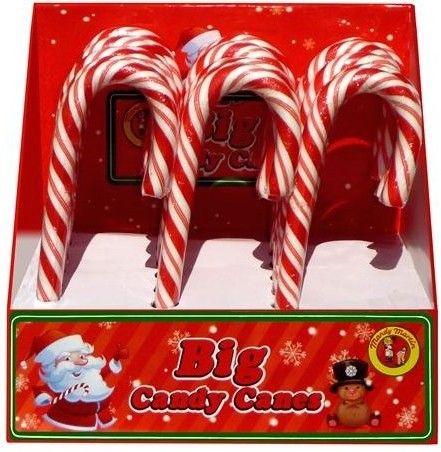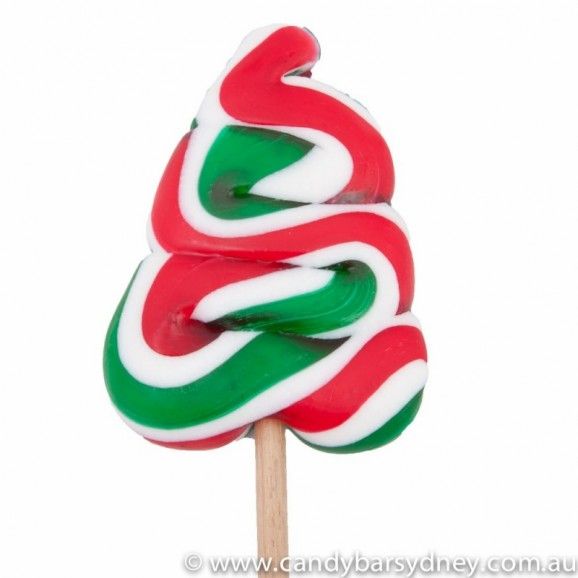 CANDY CANE CENTREPIECE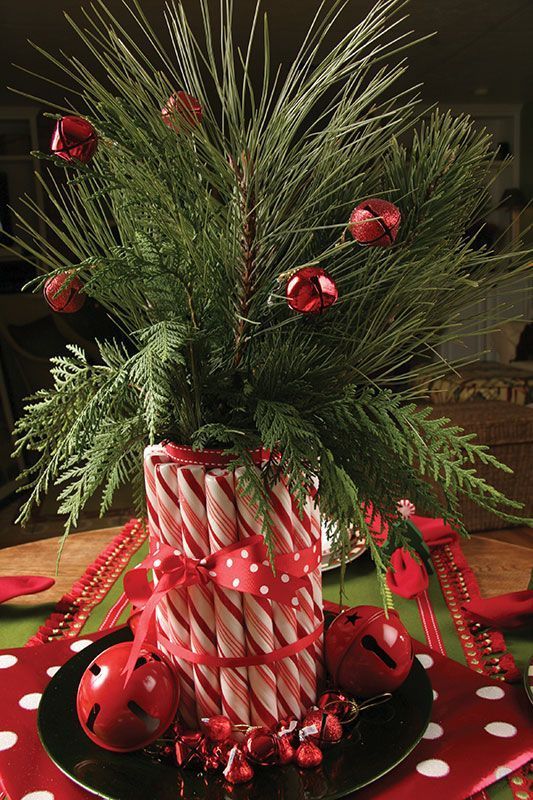 Chop the hooks off a packet of Large Candy Canes
Tie candy cane stems around the perimeter of the vase with red ribbon
If you use dried flowers or greenery instead, you can leave the hooks on and hook them over the lip of the vase
Image from Debbie Mumm.
CANDY CANE CANDLES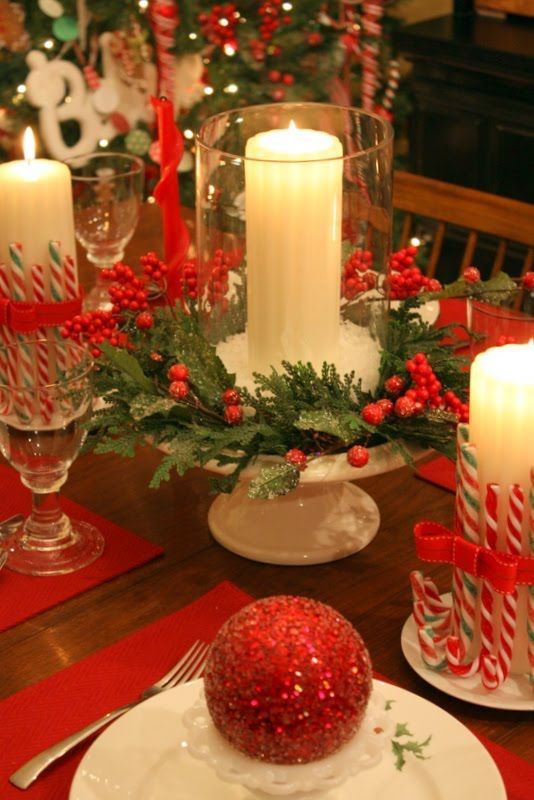 You will need candles at least 5cm taller than candy canes which are up to 15cm tall
Arrange the candy canes, hook side facing out, around the candle and tie firmly with a fairly thick ribbon, or use a rubber band first to stabilise them and then cover it with the ribbon
You could also use Rainbow Coloured Candy Canes for a variation
Found on ultimatechristmasstore.com.
M&Ms or CHOCOLATE BEANS SANTA HAT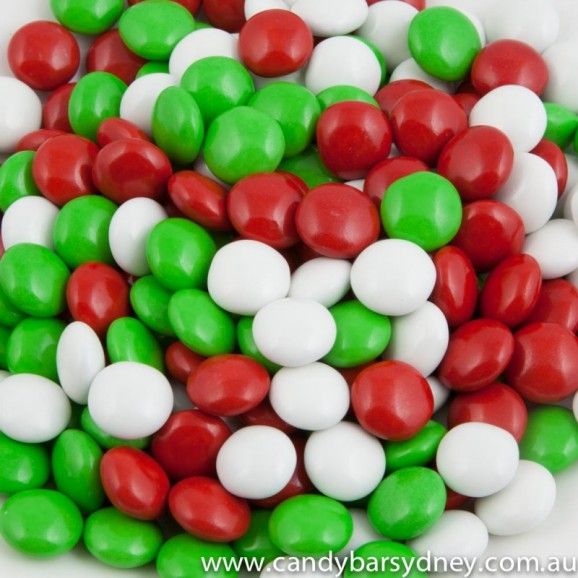 Fill a disposable icing bag with a scoop of M&Ms or Christmas Mix chocolate beans
Secure the bottom with a twist tie, and cut off the excess bag
Hot glue small pom-poms or cotton wool balls around the base of the hat and a larger one to the top
Idea found on alittleloveliness.blogspot.com
CHRISTMAS CHOCOLATE PIZZA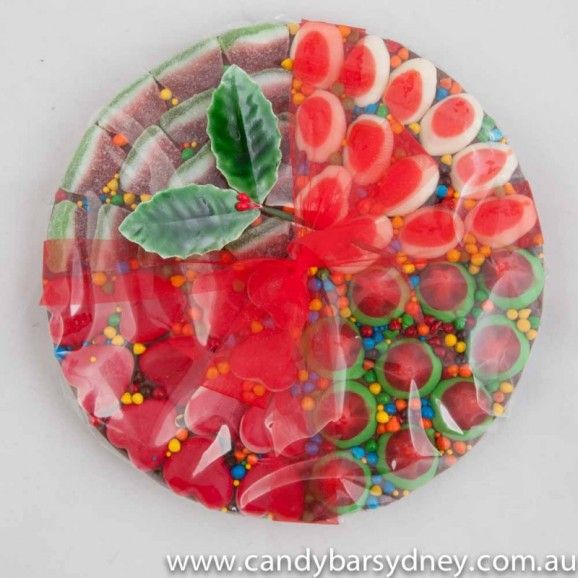 MERRY XMAS ROCK CANDY JAR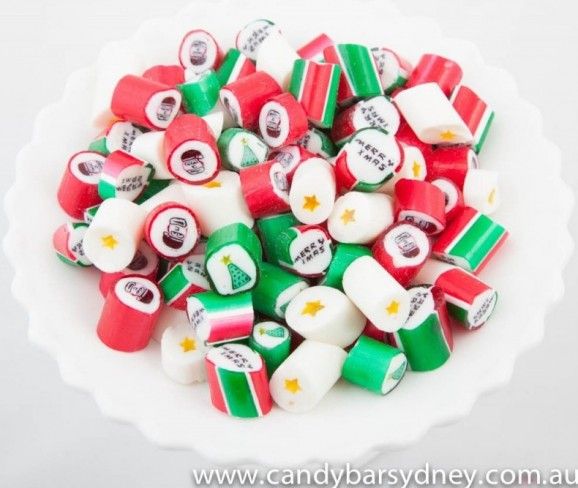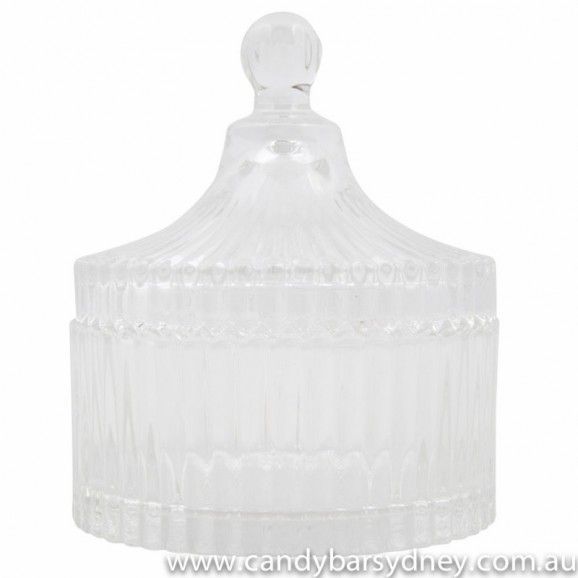 This candy jar is 13cm tall and 10cm width
 It is small enough so you can add one to each place setting at the Christmas table
Fill the jars with Merry Xmas Rock Candy
Tie a festive ribbon around the top of the jar
Idea found at Candy Bar Sydney!
CHRISTMAS TREE BROWNIES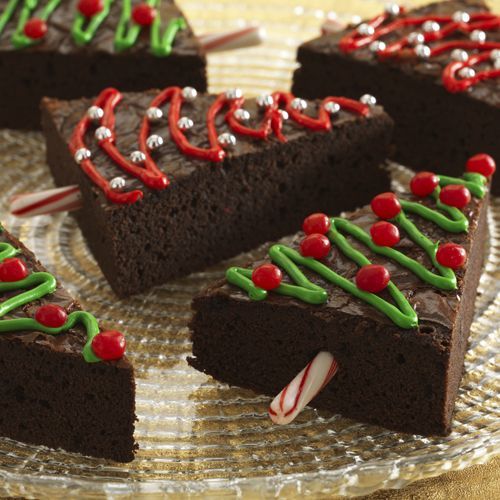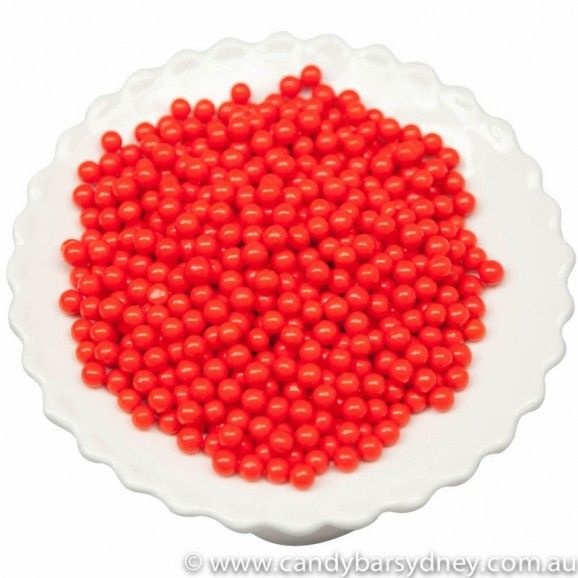 Use a firm, dense brownie mix cooked in a round pan. You don't want the brownie mix to be chewy or it won't cut into neat pieces. A chocolate fudge cake mix would hold its shape well and do just as nicely
Cut into triangle-shaped wedges
Cut the hooks off small candy canes and insert the stems carefully into the brownie triangles
Decorate with chocolate frosting, let it set and then use coloured candy piping to create the branches effect
Add Mini M&Ms or Shimmer Pearls as the Christmas tree decorations
Idea found on new.pamperedchef.com.