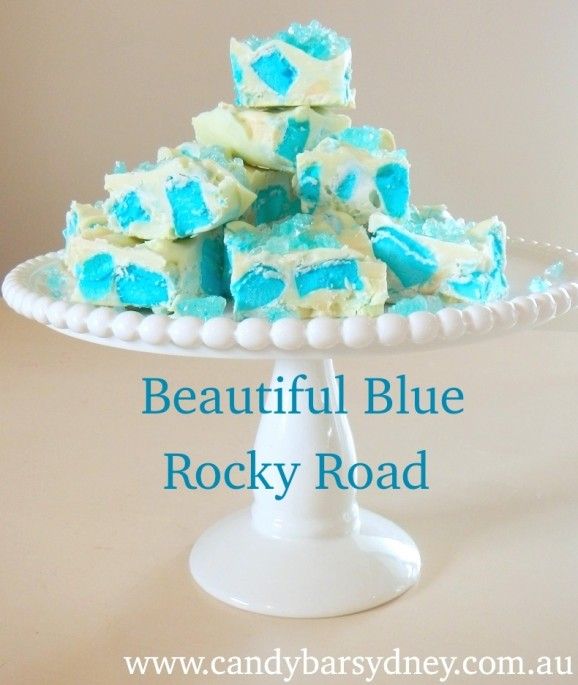 Beautiful rocky road covers all bases: It's sweet, creamy, chewy and crunchy. Usually it's pink and white and dark chocolate combined, but we've decided to get the blues today in the best possible way. Here's our summery Candy Bar Sydney Blue Rocky Road recipe with white chocolate instead. It's easy peasy and takes 10 minutes to make, and probably about two minutes to eat! Marshmallows are available in an increasingly wide variety of pretty pastel colours these days, including green and yellow  so let your imagination run riot. Heart-shaped marshmallows would also look very elegant. Stacked up on a fancy plate, beautiful Blue Rocky Road will take the cake at a candy buffet.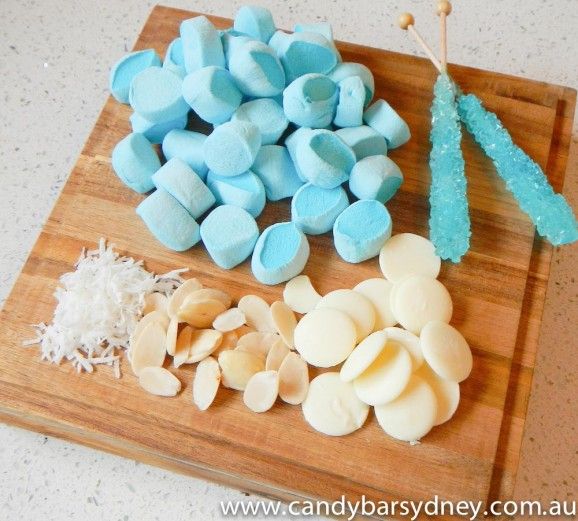 Five Easy to Find Ingredients:
500g white chocolate melts
200g large Blue Marshmallows
1/3 cup shredded coconut
100g blanched almonds
2 Cotton Candy Rock Candy Crystal Sticks
The Simple Method: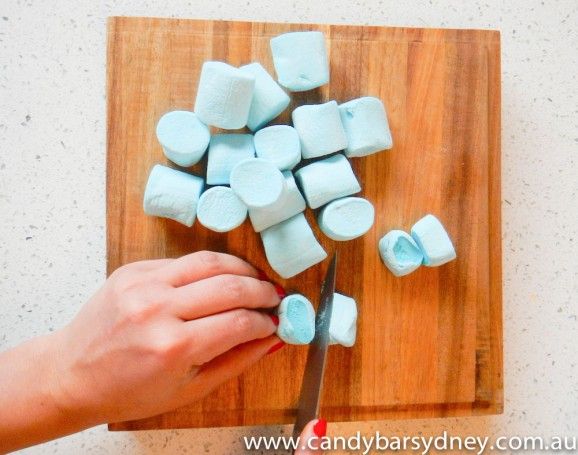 Chop the blue marshmallows in half. There's no need to cut them into smaller pieces as their size will be reduced when you cut up the finished rocky road.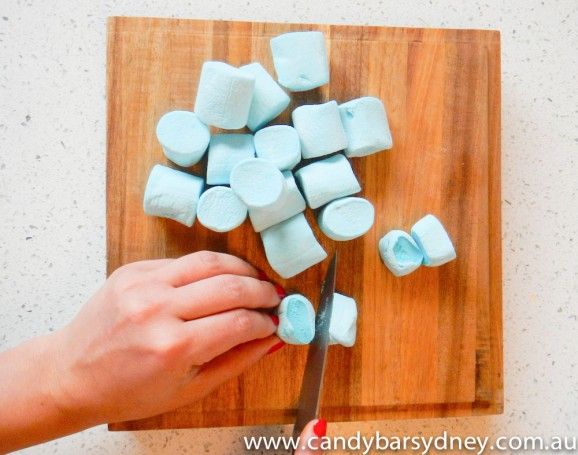 Cut the blanched almonds in half. Again, there's no need to chop them up any smaller. You want the rocky road to have the ultimate creamy, chewy, super crunchy texture.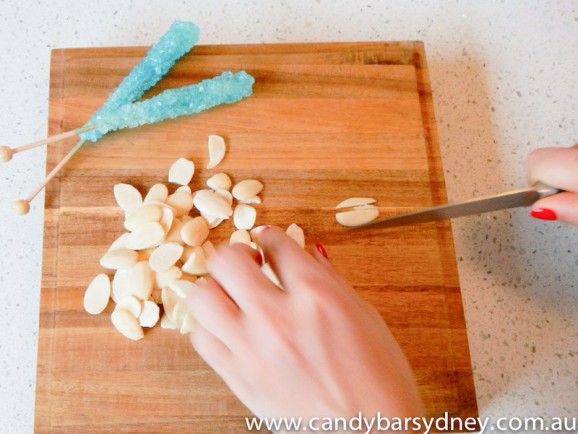 Next, "skin" the blue rocky candy crystal sticks carefully, so they won't fly all over the kitchen bench and floor! The beautiful crystals are brittle and need delicate handling. Then mix the marshmallows, coconut and almonds in a bowl.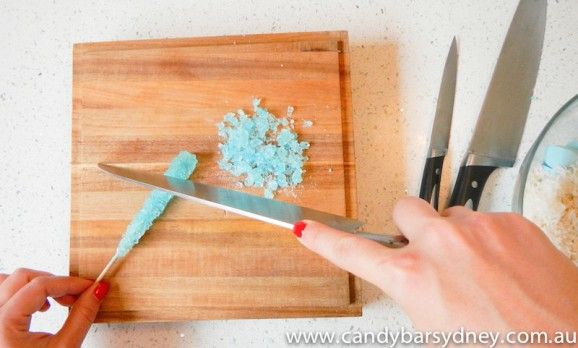 Melt the white chocolate in the microwave (on low heat) or gently in a metal bowl over a pot of boiling on the stove.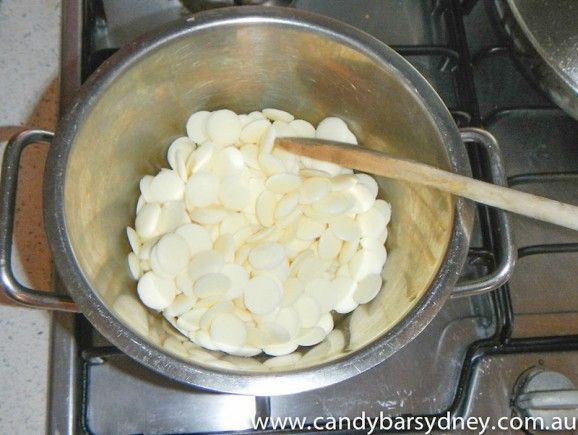 When it's melted pour the chocolate into the bowl of ingredients. Mix only until the marshmallows, almonds and coconut are coated. You don't want to melt the marshmallows. This step is very important as something magical is about to happen.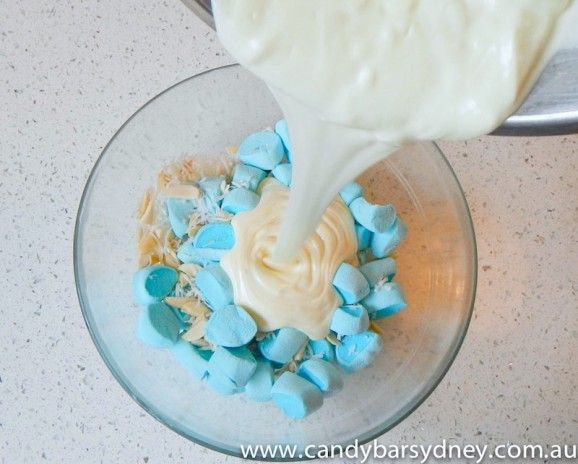 Pour into a square pan lined with baking paper. You can sprinkle the crumbled Cotton Candy Rock Candy Crystal Sticks on top now, or simply sprinkle them over when you've cut it up later. Rock candy crystal sticks reflect the light and give the rocky road a super glamorous look. And they add a whole lot more crunch!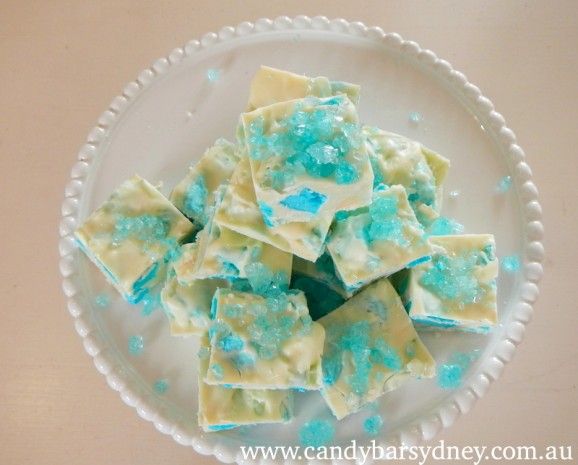 Put it into the fridge for 30 minutes, then bring it out and use a good, sharp knife to cut it up into squares.
Here comes the alchemy…
You will notice that the pastel-coloured marshmallows have become a much more vivid shade. It's one of life's mysteries. We can't explain it and there's been no digital trickery in processing the images. We only know that Blue Rocky Road looks fabulous and tastes delicious! Our staff demolished it in no time at all. What a scene stealer on a candy buffet.
Happy cooking and bon appetit!