Take a walk with us through an enchanted forest: this inspiring candy buffet was sent to us from Meghan at Dolly Lolly Bar. What a fabulous collection of flowers, decorations and lollies she used to create a lush rainforest-like candy buffet. The moss coloured macarons and the delicate icing flowers adorning the cupcakes are marvellous. We particularly admire the tropical flowers created using sour straps, and those toadstool cake pops are a tempting treat!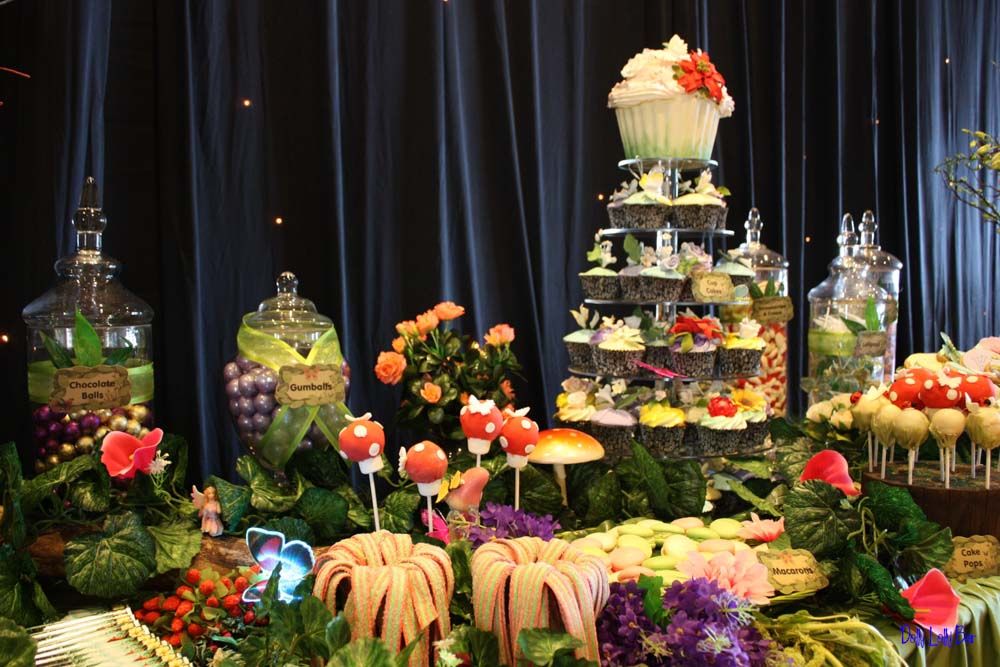 CBS: What was the occasion you were celebrating?
Meghan: It was Kitty's 21st Birthday Party.
CBS: Where did you have the candy buffet?
Meghan: The party was held at St.George Rowing Club in Sydney.
CBS: What was the theme or colour scheme you chose for your candy buffet?
Meghan: The theme was "Enchanted Forest". Our aim was to really bring the display to life with creatures of the forest and that hint of magic. This meant not just flowers and greenery but fairies, butterflies, dragon flies, birds, frogs, gems, mushrooms, sparkling lights, and even a water feature.
CBS: Which were your favourite lollies?
Meghan: Our favourite lollies for this display would be the purple shimmer gumballs, Allen's strawberries and cream, the foil covered chocolate balls and the fairy floss radical storms. Not only do they taste wonderful but they added that perfect splash of colour to the display, real "eye candy".
CBS: What did you like most about the candy bar?
Meghan: The Dolly Lolly Bar Team really enjoyed putting this buffet together. We got to tap into our inner child and let our imagination run wild. All these great ideas, even the smallest details like the frogs in the pond, or the birds nest in the tree came together to create this spectacular lifelike 'Enchanted Forest' scene.
We thank Meghan from the bottom of our chocolate hearts for this gorgeous submission. If you'd like to have a recreation of this enchanted forest candy buffet for your own event, get in touch with Meghan.
Dolly Lolly Bar
Website: http://www.dollylollybar.com.au
Email [email protected]