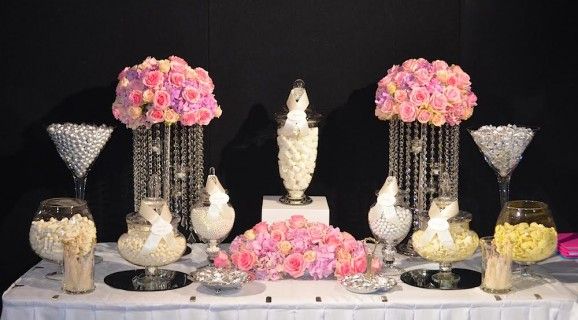 Eudora Creations set up this wonderful candy buffet combining dramatic floral arrangements and silver foil-wrapped lollies from Candy Bar Sydney. Eudora also used strings of crystal beads, satin ribbons, antique silver dishes and mirrors in addition to the clear, glass apothecary jars.  A jar of Large White Marshmallows is set on a white riser at centre back, providing a balancing touch. The delicate colours of the flowers are vividly highlighted by the pale lollies. We think the overall effect is fresh, pretty and so sophisticated.
Flowers are by Ooh La La Floral Design. The floral centrepieces are musk pink roses, dust pink rose, pastel pink rose and hydrangeas in a pinky mauve colour. There's been lots of oohs and aahs on social media about these gorgeous flowers.
What was the occasion you were celebrating?
We are a candy buffet company and we had a stand at the Melbourne Bridal and Honeymoon expo.
Where did you have the wedding candy buffet?
The Melbourne Convention and Exhibition Centre
What was the theme or colour scheme you chose for your candy buffet?
Bridal… so all white with pink flowers
Which were your favourite lollies?
The candy coated marshmallows were a hit!!
What did you like most about the candy bar?
Everything!! The quality of the candy the most!
Lollies for the wedding candy buffet  included: White Candy Coated Marshmallows, Hershey's Milk Chocolate Kisses, White Chocolate Milky Buds, White Speckled White Chocolate Jewels, Milk Bottles, Silver Chocolate Hearts, White Chocolate Balls, White Shimmer Sixlets, White Rock Candy Crystal Sticks, Large White Marshmallows.