Thanh of Sweet Event Styling emailed us this beautiful blue and white candy buffet that she created for her little nephew, Hugo. She certainly didn't hold back when it came to design and attention to detail – Hugo now has his own range of personalised water bottles, chocolate bars, and candy jar labels, not to mention personalised noodle boxes, decorations, and cards. Even the backdrop was lovingly custom made on a grand scale. Hugo could easily start manufacturing his own range of themed party supplies to stores nationwide and set himself up for life if he wanted to. We are mighty impressed by Thanh's painstaking work and humbled by the resulting buffet.
Candy buffets are indeed works of art. They take months to prepare, which means it's possible Thanh had the concept all worked out while little man Hugo was still in utero. Candy buffets take hours to set up and only minutes to destroy. Luckily, with a few nice photos, these lofty masterpieces can live on to inspire others. I'm sure many of us will take inspiration from this particularly gorgeous candy buffet.
To have your photos submitted on our blog, email [email protected]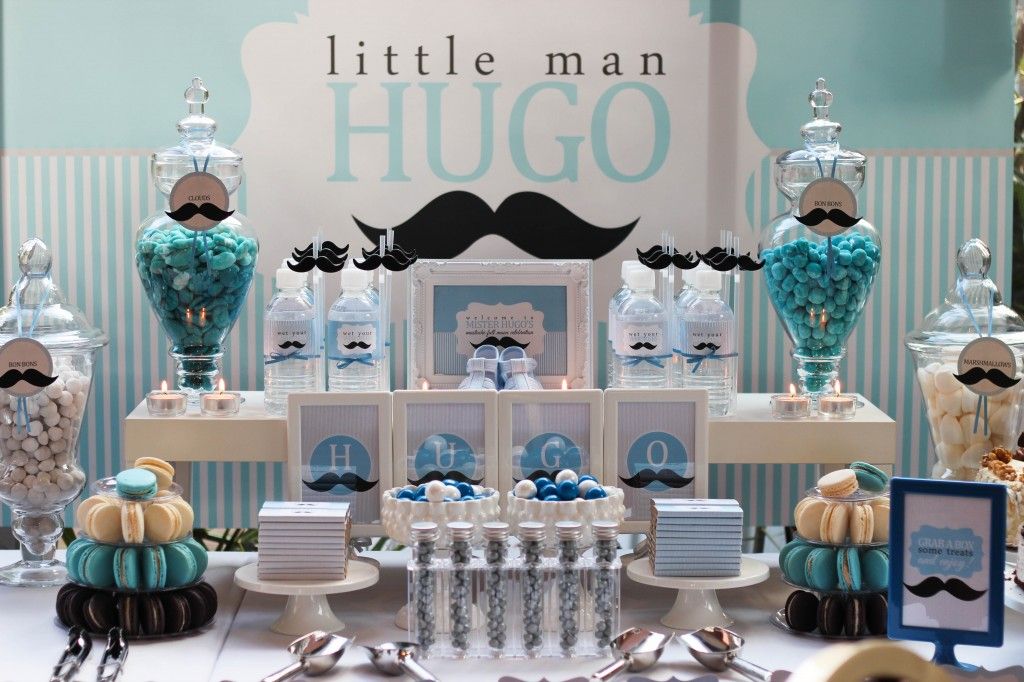 Interview with Thanh of Sweet Event Styling
CBS: What was the occasion you were celebrating?
Thanh: Full Moon Celebration. Traditionally, Vietnamese celebrate when the baby reaches one month old. It is called the baby's "Full Moon" or full month."
CBS: Where did you have the candy buffet?
Thanh: The sweet table was setup at Yummy Restaurant, Sydney.
CBS: What was the theme or colour scheme, for your candy buffet?
Thanh: My sister's chosen colour scheme and theme was stripes of blue, white and silver. I decided to incorporate a moustache to make it a little more fun.
CBS: Which were your favourite lollies?
Thanh: The Bon Bons.
CBS: What did you like most about the candy bar?
Thanh: I really like what I designed for the backdrop.
Lollies used from Candy Bar Sydney:
Blue Raspberry Bon Bons
White Toffee Bon Bons
Silver Shimmer Sixlets
White Marshmallows
White Shimmer Gumballs
Blue Gumballs
Bubblegum Clouds
Party Supplies from Candy Bar Sydney:
White Noodle Boxes with handle 16oz
Les Petite Sweets Compote by Rosanna (used with the gumballs)