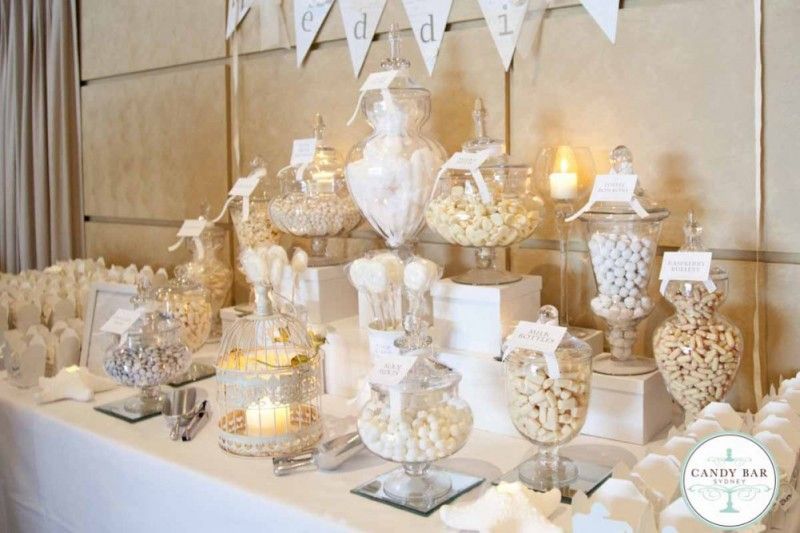 When you think of candy buffets, they're almost always full of colour. Pink, white, blue and every other colour of the rainbow. However, for Michelle and Neil's wedding candy buffet, I was really excited to have a purely white colour scheme. To create this ivory and white wedding candy buffet, I had a combination of ivory and white lollies, clear glassware and our lovely Rosanna cake stands. For decoration I used vintage ivory lace, white wedding bunting flags with brooch detailing and white starfish votive holders for some atmosphere. Personally, I really love ivory and white together. It gives a pure look and ties in perfectly with a wedding and a couples fresh start together.
Q. What was the occasion you were celebrating?
A. This ivory and white wedding candy buffet was set up for Michelle and Neil's reception 
Q. Where did you have the candy buffet?
A. It was held at the City Beach Function Centre in Wollongong. This venue is right next to the beach, great views of the water.
Q. What was the theme or colour scheme for the candy buffet?
A. Michelle wanted an all white wedding candy buffet. She had 115 guests.
Q. Which were your favourite lollies?
A. Favourite lollies were the White Toffee Bon Bons and the White Lollipops.
Other lollies used were: White Chocolate Raspberry Bullets, White Chocolate Milky Buds, Allen's Milk Bottles, White Mini Jelly Beans, Kool Mints, White Chocolate Beans. Also had Ivory and White Swirl Rock Candy Lollipops.
Q. What did you like most about the candy bar?

A. I loved the colour, ivory and white for a wedding is a classic. I really like the ceramic starfish votives and the wedding bunting that we hung above the table. Michelle also personalised the noodle boxes with a shimmer paper and a swing tag.