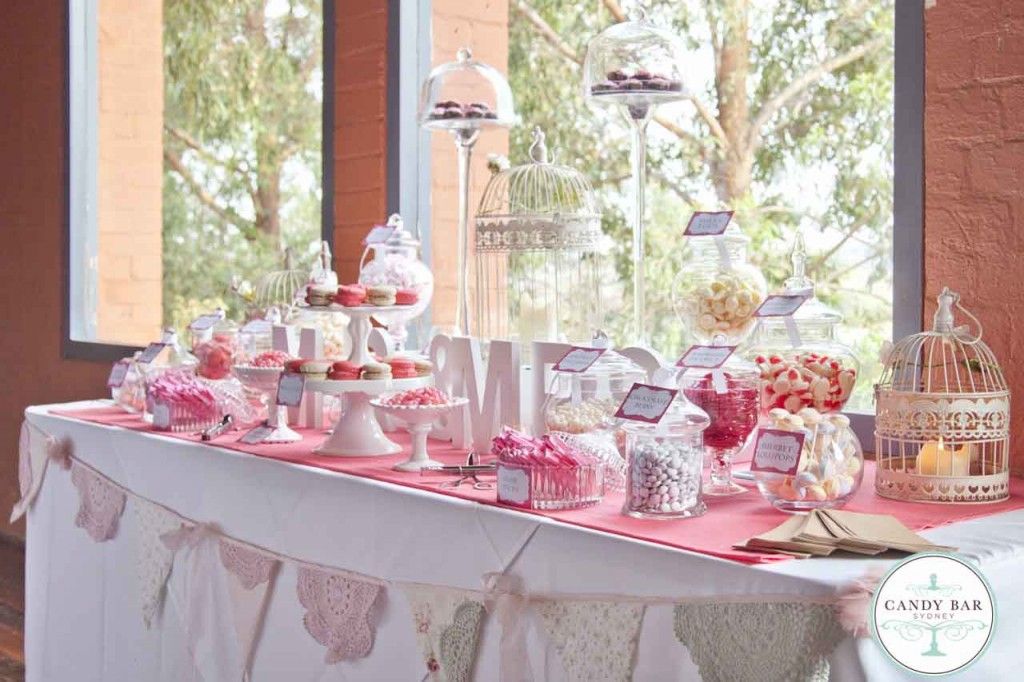 Candy Bar Sydney was thrilled to create this elegant candy buffet for a Hunter Valley Wedding. In contrast to the traditional pink and white, the happy pair opted for a splash of coral in the candy mix. We were delighted to oblige! We mixed neutrals (you can see the ivory lace bunting and the beige speckled macaroons) with pink, coral, and bright white, and we were very pleased with the looks on the guests faces when the candy buffet was revealed at the reception.
What event was the candy buffet celebrating and where was it held?
This coral, pink and white candy buffet was for a wedding at the renowned Lindemans Winery in the Hunter Valley.
What was the colour scheme or theme?
The pair decided on a rustic theme with a hint of classic vintage. Lindemans has a very attractive wedding reception area with lovely timber floors and ceilings, so the candy bar had to tie in with the feel of the room.
How many guests did this candy buffet cater for?
There were 70 guests who attended the wedding and reception.
Which lollies were chosen for the occasion?
Below is a list of the pink and white lollies that were used:
Pink Lollies
Pink Mini Gourmet Jelly Beans
Musk Sticks
Allens' Strawberries & Cream
Strawberry Belts
Raspberry Licorice
Pink & White Marshmallows
White Lollies:
Allen's Milk Bottles
Milky Buds
White Chocolate Raspberry Bullets
White Chocolate Beans
White Mini Lemonade Jelly Beans
We also added the adorable pink and white cupcakes in the glass domes and some exquisite vanilla bean and raspberry macaroons to the mix. They were very well received!
What decorations were used on the candy buffet?
We used the vintage birdcages with pillar candles, a gorgeously bright coral table runner and white wooden letters to spell MR & MRS. We also use a handmade set of vintage lace bunting, which got a lot of compliments! You can see it up close here: http://www.candybarsydney.com.au/854-floral-doily-bunting.html