Pink is a popular choice for weddings, birthdays, and plenty of other festive occasions. If colour pyschology piques your interest, you'll be thrilled to know that pink is a sign of hope. Prison holding cells were painted pink experimentally because the colour is believed to calm the inmates. Another insightful treasure about the colour pink: it strengthens female weightlifters, allowing them to lift more and feel empowered. While none of us have any plans to pursue a career in weightlifting, or to attend prison, we'd love a pretty pink feature wall all the same.
We all know pink candy tastes good – you don't even have to stuff in into your mouth to know it's going to be delicious. Here are some wonderful, whimsical ways to create your own pink candy buffet, much to the delight of your guests.
White and Pink Candy Buffet Ideas for the DIY Bride
With many lovely variations in complementing hues, pink is an easy colour to co-ordinate for a candy bar. Here's the result of a bride's own initiative with a little help from her friends and some pearls of wisdom straight from Candy Bar Sydney. Bride-to-be Anna rang Candy Bar Sydney's co-owner Kelly to discuss the design for her upcoming wedding reception, sending along pictures of the sweet glass lolly jars she planned to use.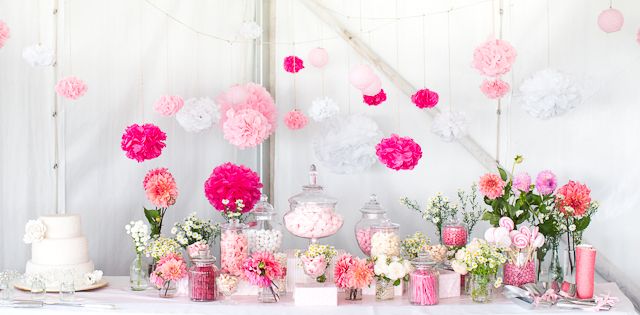 Kelly advised Anna on what type of lollies would look and taste best. The mouthwatering colour choices included white, cream and a dozen shades of pink ranging from blush to rose, from vivid to pastel. As for taste and textures, the selection covered creamy, zingy, floral, crunchy, and melt-in-the-mouth.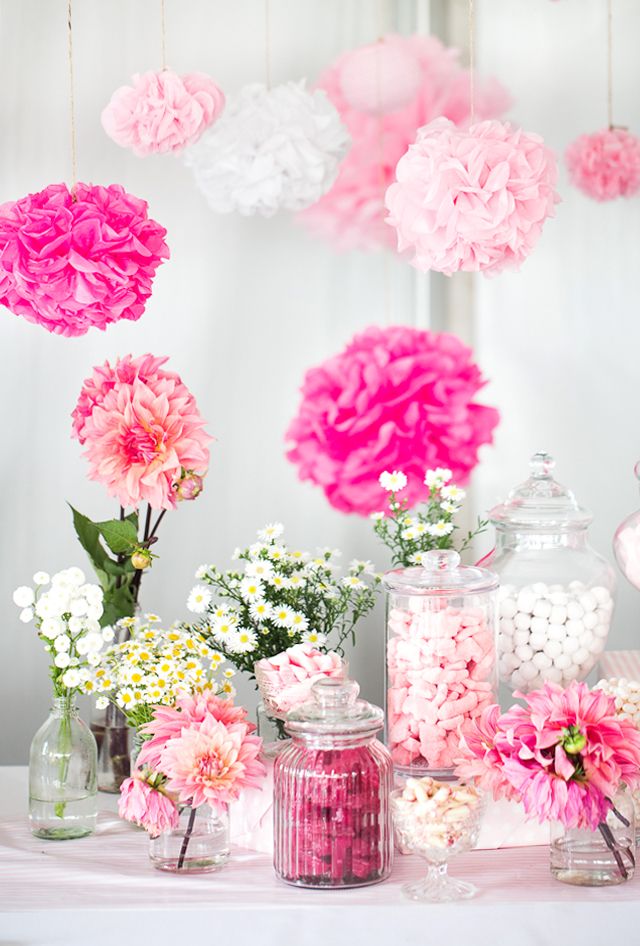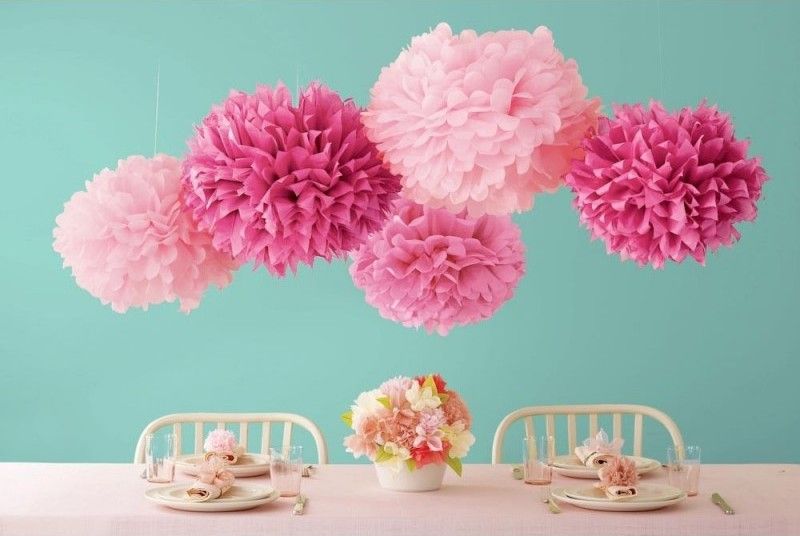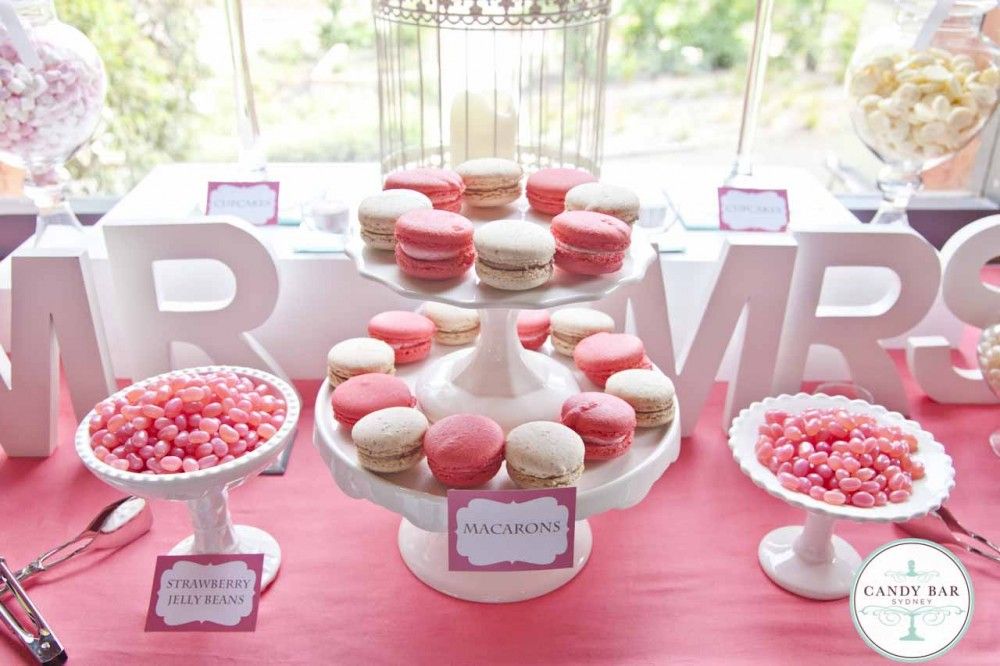 Kelly's work can also be seen on plenty of other pink wedding candy buffet ideas. Here, subtle variations in pink shades are contrasted with lots of white accents to make each item stand out against the tablecloth. Kelly used a medium white cake stand and stacked a smaller one on top to showcase the delicious macarons. Simple dishes full of Dark Pink Mini Jelly Beans are eye-poppingly vivid.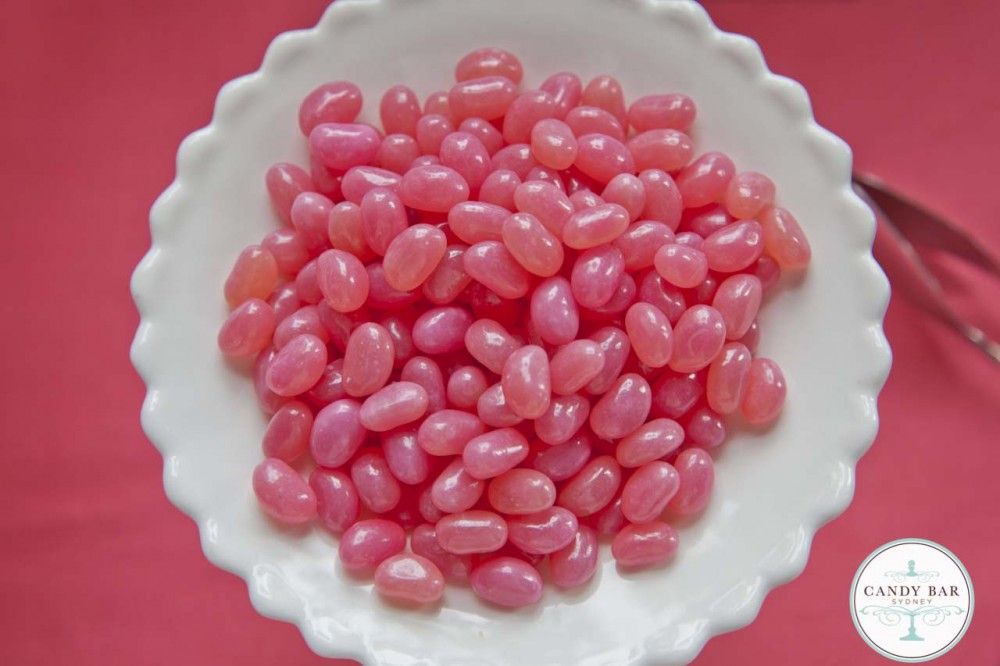 Thankfully, artists and their colour demands are richly rewarded at Candy Bar Sydney: we have 10 different shades of pink jelly beans, including Strawberry Cheesecake with speckles of red. Then there's the sweet and subtle Ice cream Parlour Mix, which adds speckles of red, chocolate, cream, butterscotch and pastel green to the mix (although pink always finds a way to be the star!).
Part of pink's versatility is that it looks equally as effective when paired with gold or silver. In this vintage candy buffet, a glass jar full of White Chocolate Jewels coated in mainly pink and multi-coloured hundreds and thousands looks very effective next to the Blush Teapot by Cristina Re, with its lovely gold handle and spout. Note that it is crammed with sugar-coated zingy-tasting Britecrawlers.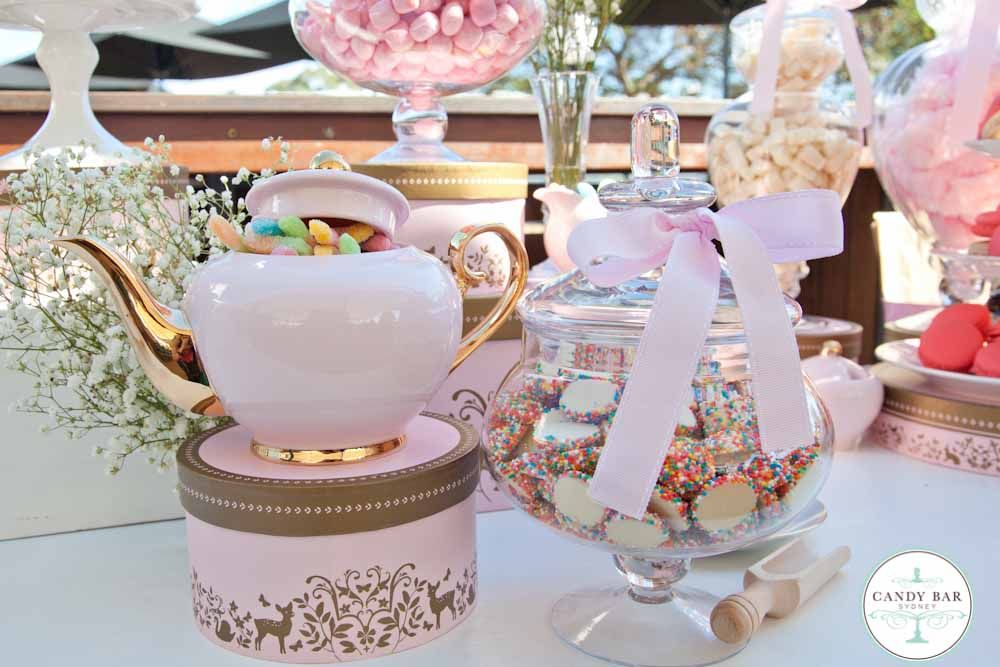 When to Hold the Pink
When it comes to pink and cakes for candy buffets, there's a case for elegant restraint. Unless you're five years old. For example, cupcakes are bigger than bite-sized macarons. A vanilla-flavoured cupcake with a pink accessory is a better balance than a pink cupcake with pink frosting on a pink plate. Your guests might get dizzy. This pink three-tiered cupcake stand holds 24 standard-sized cupcakes. Pink and Gold cupcake wrappers add a festive look, particularly when served on a plain white cake plate. Tip: Wrappers are also useful for hiding those not-so-perfect cupcake shapes. You don't have to bury mistakes in mini mountains of icing this way.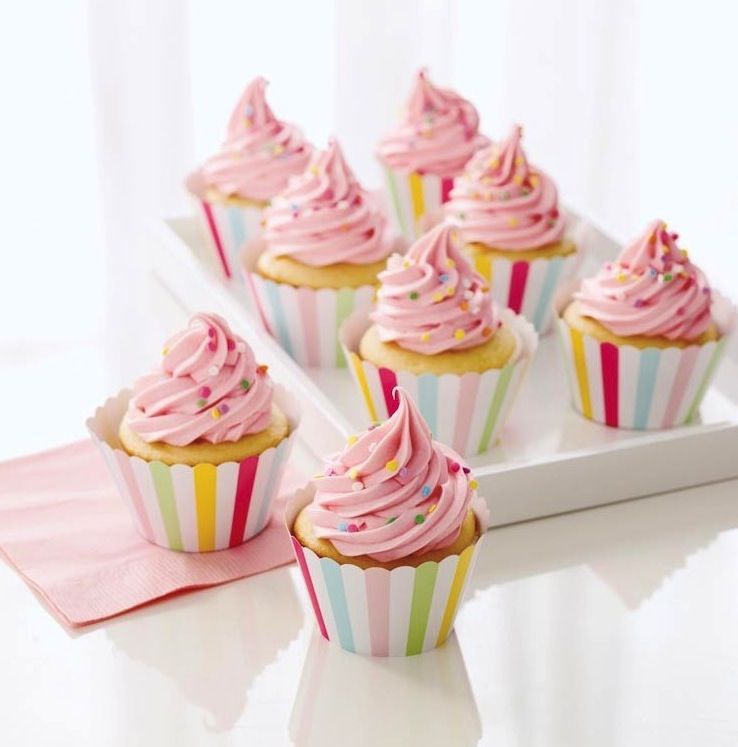 Would you wear shades of red and pink together or decorate your house with those colours? We doubt it. Those colours often clash, and loudly too. It's enough to make us blush. Or see red. There's a surprising exception though: using pink and red in flower arrangements and food. Here are some bold examples: Sherbet Lollipops in pastel pink, yellow and blue hold their own against Strawberries and Cream; and Strawberry Loopy Doopy Sour Strings and Piglets are a gentle choice opposite those attention-stealing Strawberry Clouds. It seems we have a berry familiar theme happening here.