Who doesn't love a jelly bean? They come in bright colours and flavours, and there's a bean out there to satisfy most discerning tastes. They're little and cute. They make kids happy, and adults reminisce on happy childhood memories (and probably a doctor's visit or two).
The beans are created using a process called panning, which gives the lolly a firm outer 'shell' while keeping the inside soft and fresh. They're mostly made from sweet, sweet sugar.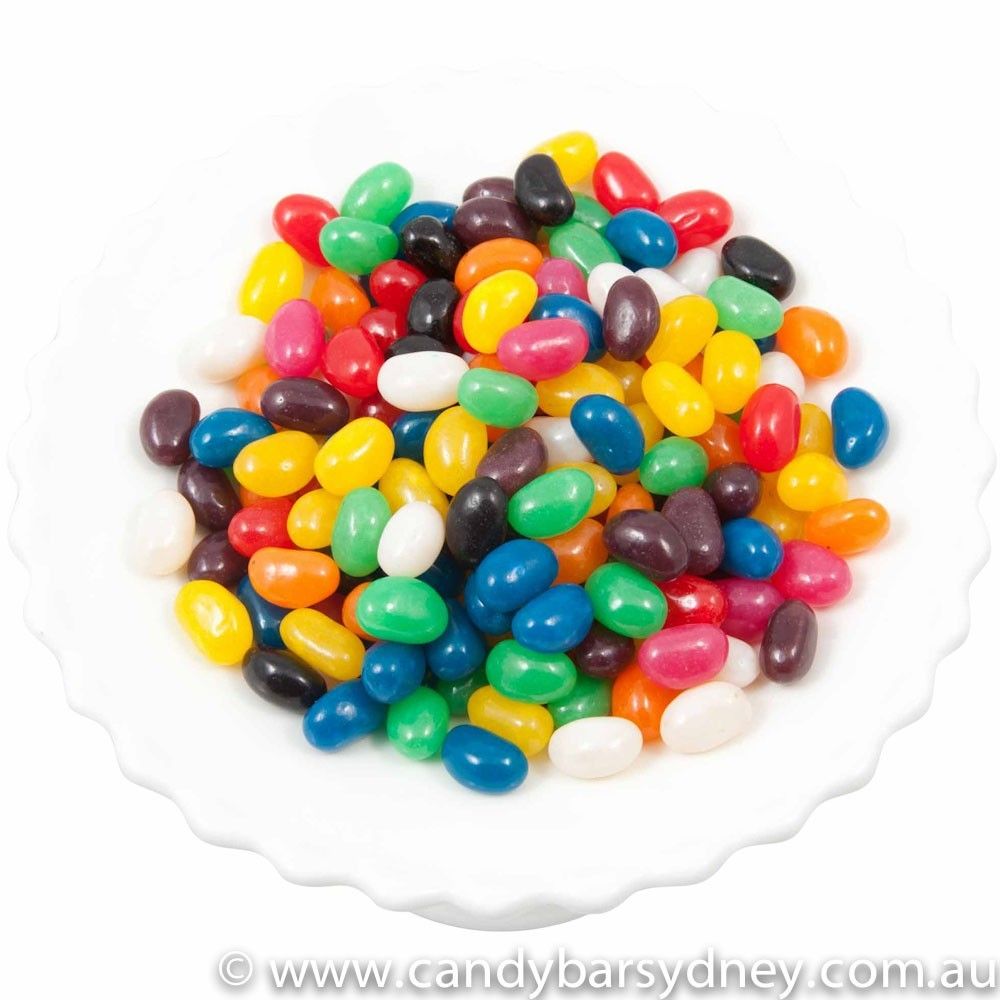 The history of jelly beans is a bit foggy, but most evidence points to their development occurring in the 1930s in the United States. They were originally linked with Easter celebrations.
For those among you who are partial to a tech spec or two, here they are: the traditional jelly bean measures in at 2cm long and 1.5cm wide. The mini jelly bean, on the other hand, measures in at a tiny 1.5cm long, making them particularly adorable and easy to fit in your gob. They're available in nine different flavours.
Blueberry: blue in colour with a sweet, slightly tangy flavour to it. It has great berry notes.
The red and pink beans are strawberry seasoned, bright and bold with a very sweet jam flavour. The pink beans are a slightly softer and more delicate version of strawberry; more floral, along the lines of fine strawberry topping.
The green beans taste like apple, refreshing and tangy. There's an element of tartness and juiciness that makes this bean extra realistic. The flavour is distinctively green, and not to be confused with red apple varieties.
Yellow beans are satisfyingly lemony with a good citrus base in the flavour. Like apple, they are refreshing and sweet, but with a respectful tartness that contrasts nicely.
Black jelly beans are licorice flavoured, like them or loathe them. Although not everyone loves a black bean, this particular licorice bean variety is quite subtle in its flavour. The aniseed notes don't scream out through the sweetness, so even opponents of the black jelly bean could accidentally pick one up without being too offended.
Purple beans are grape flavoured. Take note, these beauties are dark purple, so if you're wary of accidentally picking up a black one, hold the bean up to the light to verify its colour intensity. You'll find good red grape notes here, and the texture is warm and juicy. It's like a less-sweet version of grape Hubba Bubba.
Unsurprisingly, orange beans are orange flavoured. The notes are sweet and bright like an orange-flavoured soft drink. Unfortunately, there isn't much citrus or tartness – just a satisfying, juicy, orange-flavoured bean. Think more Valenica and less Seville.
Lemonade is the flavour of the creamy-coloured beans. It's quite an accurate representation; sweet with good lemon presence to even things out. I can almost feel the bubbles in my mouth!
With such a wide variety of flavours, there's definitely at least one – if not more – for every special person in your life.