The original fairy tales by the Brothers Grimm are pretty revolting. And kids love them desperately, especially the weird and gruesome bits. Sour lollies are much the same: popular because every now and then, we like screwing our noses up and making our eyes water. But be careful and well-prepared! Sour lollies by Trolli pack a mean punch.
Here's a bit of history. Gluten free Sour Apple Rings and Sour Peach Rings were created by Trolli in 1982, and since then they've become two of Trolli's most iconic products. Originally, Trolli was known as Wilmed, but underwent a name change in 1975. The new name, Trolli, was chosen to please the kiddies: it's based on the Norse sagas of the trolls – quirky woodland creatures that are quite fond of children.
As sweet as little Trolls might be, Sour Apple Rings are anything but. Even the smallest of bites will make your mouth water and your lips pucker as if you've bitten from a sour green apple straight from the tree. Serious sour fanatics will love the tang, but the inexperienced may find that their mouths have involuntarily scrunched up into a long lasting pucker.
Each gummy candy ring is flavored with a tree's worth of sour apple taste, but all candies are kindly coated in enough sour sugar to send your taste buds into a second frenzy.  Be sure to have a drink nearby. Add them to your candy bar buffet table for a touch of sour fun!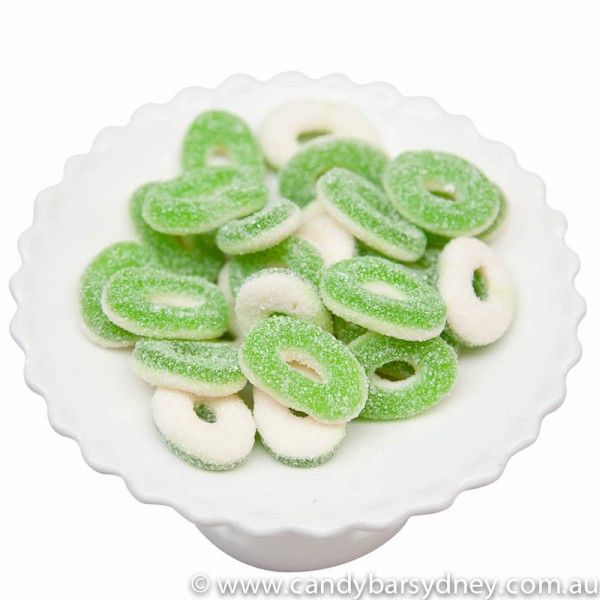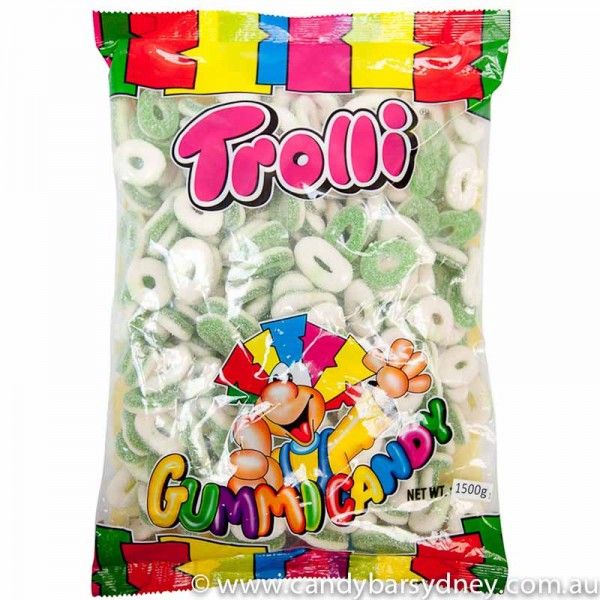 We do love to sugar coat things for our customers, and Trolli Sour Peaches do the job for us. Your cheeks will cave in. Your lips will purse. The sour will get you. Just when you think you can't take another second, the delightful sugar kicks in and saves you. Experience the sour, the sweet, and the tangy taste of peach. Trolli Sour Peaches are a flavour explosion that lightens up any candy buffet in vivid yellow and orange.